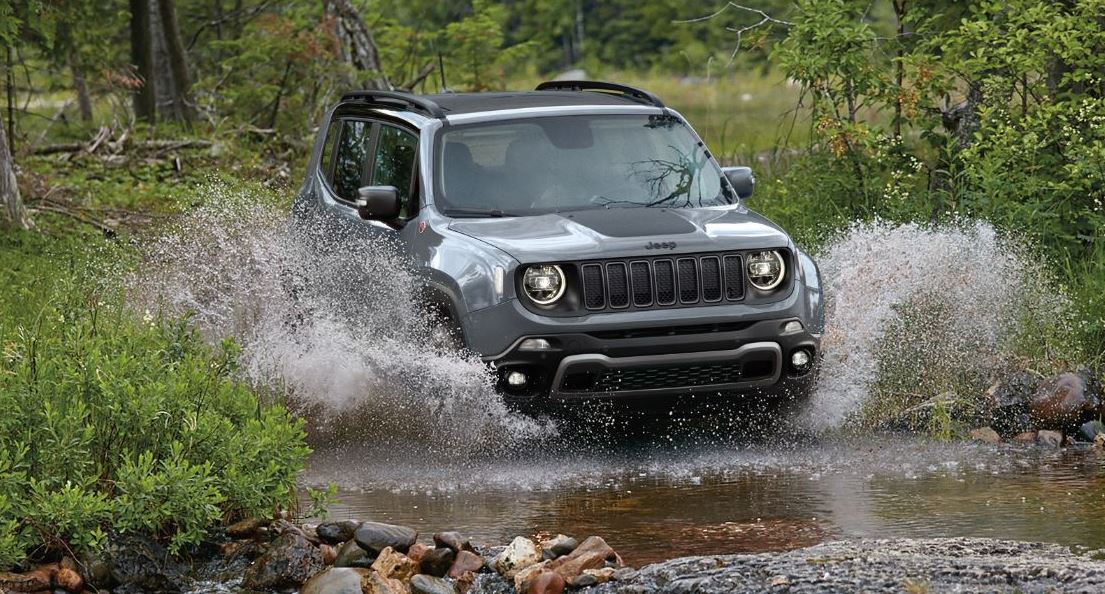 What Makes the New Jeep Renegade Special For Drivers in Fond du Lac?
Being able to introduce new Jeep brand SUVs to our customers is part of what makes Summit Chrysler Dodge Jeep Ram such a special place to work. One of the newest models we love to talk about is the new Jeep Renegade. Those who love the Jeep brand know this automaker updates their models, and it did not disappoint with the new Renegade.
Discover the New Jeep Renegade at Summit Chrysler Dodge Jeep Ram
Jeep is known for its rugged line of Sports Utility Vehicles, and the Renegade does not disappoint those who like to live adventurously around Fond du Lac. The Renegade is perfect for those who traverse both the concrete jungle and the great outdoors. You'll get great fuel economy, but you'll also find the Renegade is a dependable compact Sports Utility Vehicle. Plus, Jeep Renegade provides the best value of any SUV in its class.
The Jeep Renegade: An Overview
The Jeep Renegade is, well, a bit of a rebel. It is not your typical compact vehicle, and it possesses an eye-catching look that is unique to the Renegade.
Jeep states that the Renegade was born to stand out, true of any real rebel. The Renegade is inspired by the Jeep Wrangler, providing drivers with unlimited adventures around Fond du Lac and beyond. The Renegade offers two possible sunroof options that break traditional convention. This seemingly small SUV is not afraid to go anywhere, and you'll be pleasantly surprised at the fuel efficiency of the Renegade.
Performance and Power
The Jeep Renegade packs a powerful punch. Don't let the term "compact" fool you! You'll be able to choose from one of two possible engine packages: a 1.3-liter four-cylinder Direct Injection Turbo and the 2.4-liter Tigershark MultiAir 2. The 1.3-liter four-cylinder offers more than 175 horsepower as well as 210 pound-feet of torque. The engine utilizes Stop/Start Technology, which cuts the power to the engine when idling only to start again once you press the gas pedal. You'll be privy to great fuel efficiency as a result.
The 2.4-liter Tigershark is paired with a nine-speed automatic transmission that provides 180 horsepower under the Renegade's hood as well as 175 pound-feet of torque. Either of these engines can be paired with a four-wheel-drive so you can go anywhere in the rebellious Renegade.
Jeep Renegade Safety
Do you want to talk about safety? The Jeep Renegade offers plenty of impressive safety technologies that will keep you safe and secure for years to come around Fond du Lac. Even when you're adventuring, you can feel safe without worrying.
The Renegade will keep you cool, calm, and protected. The Renegade utilizes Adaptive Cruise Control, Blind Spot Monitoring, Lane Keep Assist, and Lanesense (which provides a lane departure warning for drivers) as well as a full-speed collision warning with automatic braking. While these same features might be optional on other vehicles, the Renegade offers these safety measures at every trim level.
The Renegade also offers ParkSense rear parking assist to sense any objects at the rear of your vehicle, preventing collisions ahead and behind you.
The Renegade Trim Levels, Packages, and Configurations
The new Jeep Renegade offers four trim packages, with a wide range available at your Jeep dealer. Here at Summit Chrysler Dodge Jeep Ram, we consistently provide great savings and offers on the new Jeep Renegade. There are four different trim levels for Fond du Lac drivers to choose from, so that everyone can find their perfect match.
The Sport
The Sport is the base model of the Renegade, but don't let the term "base" fool you! This version of the Renegade sits on sixteen-inch wheels and is powered by a 2.4-liter four-cylinder engine. You can upgrade to a four-wheel-drive package, should you wish.
A back-up camera, Bluetooth connectivity, and a folding rear seat are all standard on the Sport. You do have many additional packages you can add to the Sport, such as the Sport Appearance package and the Power and Air Group package. A UConnect 7.0 Group package adds many technical upgrades.
The Latitude
The Latitude is a fan favorite. It adds even more sporty features to the rambling Renegade, with fog lights and LED lighting. The Cold Weather Group is a great add-on package for those who want heated seats and all-season flooring.
The Limited
The Limited trim level of the Jeep Renegade offers all the above amenities as well as remote start, navigation, and a standard turbocharged engine.
The Trailhawk
This is the top trim package of the Renegade, and it is made for the outdoors. You'll get FWD standard as well as all the amenities of other packages. Eighteen-inch wheels with all-terrain tires allow the Trailhawk to go anywhere.
Visit Summit Chrysler Dodge Jeep Ram to Learn More
If you'd like to learn more about the new Jeep Renegade, we encourage you to visit our dealership in nearby Fond du Lac. You can take any trim level of this model for a test drive to try out all the great features in person. Additionally, our friendly and knowledgeable team members can help you find great financing solutions for the Jeep Renegade. We look forward to working with you soon!
You can schedule a visit to our Jeep dealership near Waupun so you can test drive the Renegade for yourself, and find out if this is the vehicle for you.
Make an Inquiry
* Indicates a required field